ABOUT OLAVI
Olavi Viheriälä is an artist from Helsinki, Finland. Primarily Olavi has made his career in technology and design. Over time, contemporary urban art has taken bigger role in Olavis life and his urban abstract art style has developed during years by making experiments and with trial and error. Olavi has created his own style by taking inspiration from contemporary art, graffiti and other street arts. Olavi´s art combines abstract art and street art using acrylic and spray paint, knives, and digital art. Besides abstract art, Olavi makes art reflecting football culture, such as Finland's national football team, fan culture, and association football clubs.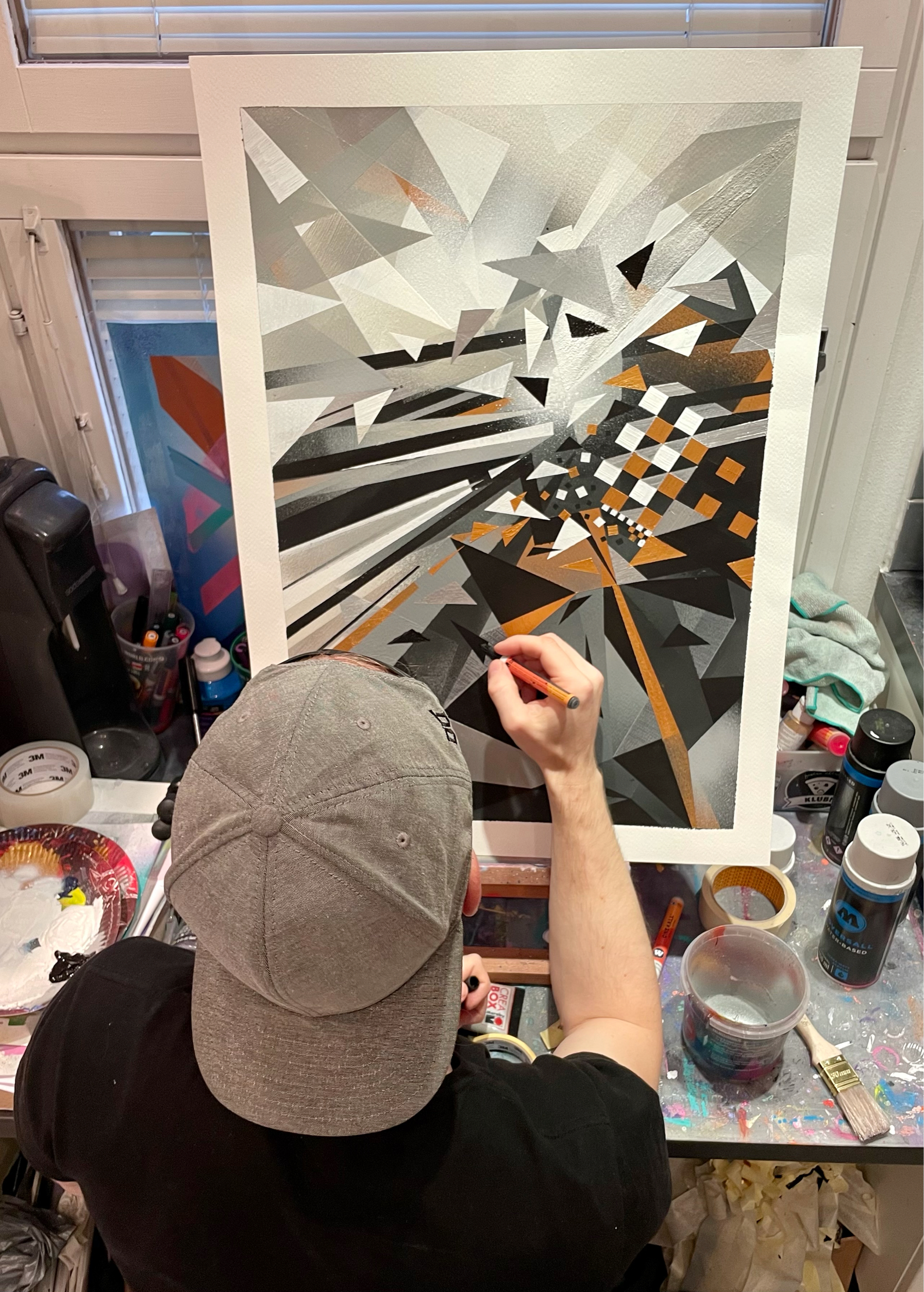 Highlights:
2021: Huuhkajat EURO2020 @Urheilumuseo - 2021

Huuhkajat EURO2020 popup -exhibition. The Finland squad for EURO 2020 was announced in a video where the players were introduced one by one by different kinds of Finnish people. The video was watched more than half a million times on social media. Artist Olavi Viheriälä introduced Paulus Arajuuri by painting this artwork of the player on the video.
2021: Concreate 202116th - 18th April 2021
Concreate brings together artists who will create art in Keran Hallit during the first weeks of April 2021. Concreate Urban Art Festival is organized by Helsinki Urban Art Association. Helsinki Urban Art specializes in street art and bringing art into public spaces as a part of the everyday life. Helsinki Urban Art carries out various different art projects, aims of which are to enrich and brighten the urban space in Helsinki and other cities in Finland and abroad. The objective of the organization is to find new ways of utilizing urban space, create communal urban culture, and find solutions to societal problems through art and activism.

Olavi Viheriälä is an artist from Helsinki, and his art combines abstract art and street art using acrylic and spray paint, knives, and digital art. Besides abstract art, Olavi makes art reflecting football culture, such as Finland's national football team, fan culture, and association football club. "Finnish football team "Huuhkajat" fulfilled a dream of generations by fighting their way to the European Football Championships. Due to the pandemic, Euro2020 games were postponed to summer 2021 and Finland will play the first match in June. "Pohjoiskaarre" is the official supporter audience of Huuhkajat and an integral part of the Finnish football fan scene. This piece is made to honor the growing Finnish football culture and to support Finland's support in Euro 2020 games."


2021: Winner Byyri EURO2020 Official T-Shirt Design
Winner of Euro2020 design competition for Byyri, one of the biggest football media in Finland.


2021: Designer of Finnish Football Association Street Art Clothing


2020: Solo Exhibition in Daddy Greens
Solo exhibition in Daddy Greens in Helsinki with 5 original abstract Olavi Viheriälä piece of art. All pieces were sold from the exhibition. October -December 2020
2020: Layers Solo Online Exhibition


2020: Pohjoiskaarteessa Solo Online Exhibition